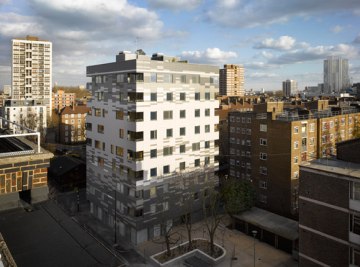 PHOTO BY WAUGH THISTLETON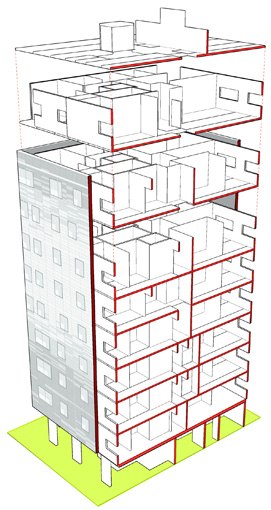 IMAGE BY WAUGH THISTLETON
British architect Andrew Waugh is doing the rounds for the Australian Timber Awards, spruiking his spruce solution to a local London planning requirement that requires a "10 per cent reduction in carbon through on-site renewable energy generation". His recently erected 9 storey apartment building is built without concrete or steel, just cross-laminated panels of PEFC-certified Austrian Spruce. The 'Stadthaus' structure was assembled by a team of five in nine weeks. You can hear Andrew speak in Brisbane tonight (Thursday) or just imagine what he is saying as you view the slides online (PDF).
According to the Australian Timber Development Association , the consultant team, "calculated that the 9 storey residential building could store 181 tonnes of carbon when completed and by not using traditional concrete methods could save a further 125 tonnes from entering the atmosphere during the construction process." Engineers Techniker note that, "130 tonnes of whitewood, delivered to London in eight lorry loads from Austria has offset 50 tonnes of carbon."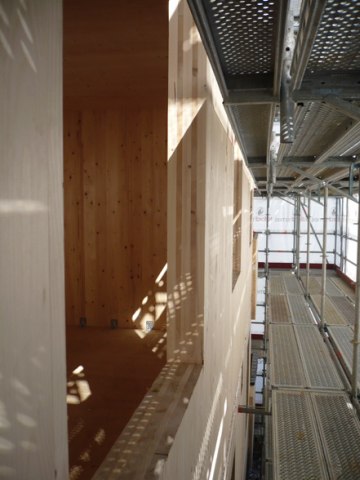 PHOTO BY TECHNIKER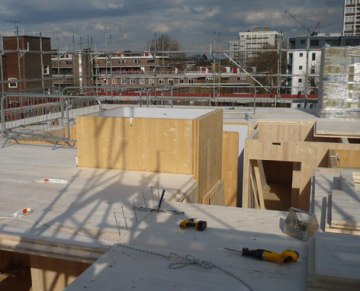 PHOTO BY TECHNIKER
Although the cross-laminated panels can function as both structure and lining, the junctions are a little raw at the mooment, and this project has been lined off in the usual way, losing all that wooden goodness. The facade has been wrapped in a digital image generated from shadows falling on the vacant lot – with a nod of head to Gerhard Richter and Marcus Harvey.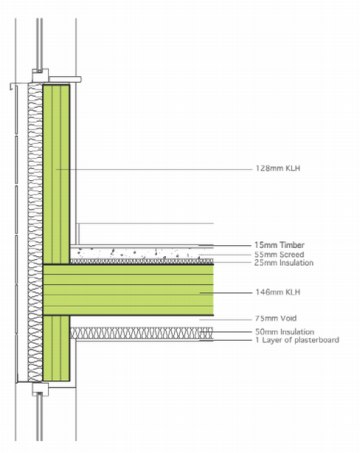 KLH UK director Karl Heinz Weiss says that the cross-laminated timber panel isn't, "a frame which is stablised with two cover plates; it has all the structural properties within the panel. It's actually acting in two directions structurally, like precast concrete. That's why you can work with it as you can precast concrete, creating large spans, cantilevers or overhangs." He believes that this method of construction will work up to 15 storeys.
So the next step would be to see where this new product can go? Perhaps here: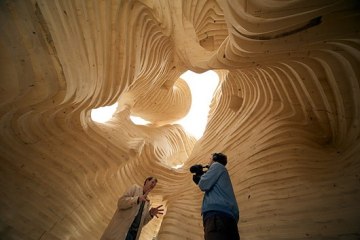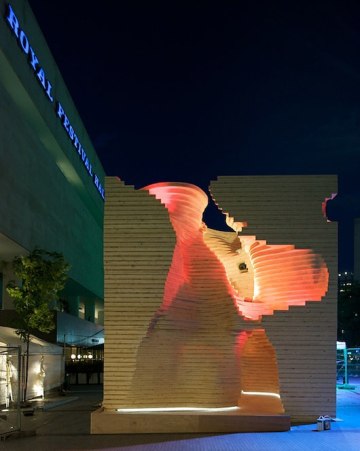 PHOTOS VIA BUSTLER – JOSEPH BURNS
This is the Termite Pavilion at London's recent Pestival .
Termites are pretty clever at building things, and this pavilion is based on a 3d scan of a mound in Namibia.

See it bigger at Youtube .
They've been playing with cross-lam for a while in Japan too, where cross-laminated timber buildings did quite well in a 2007 shake table test. Here's a seven storey test building used as a guinea pig. [ PDF ]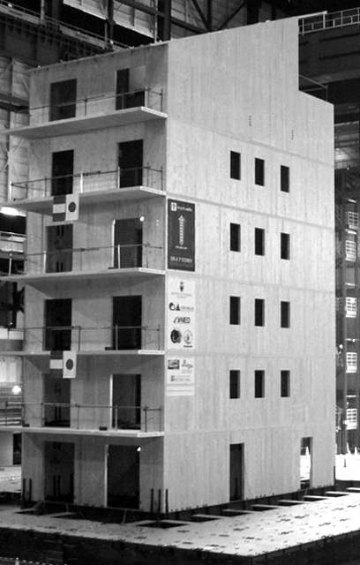 No, you can't get these panels in Australia or New Zealand yet, but soon…

Posted by Peter on 21.10.09 in sustainability and timber