The Valencia Effect
Is this a sign of things to come? As austerity measures dig in, are "los indignados" of Spain wondering about the money that fed a cultural building boom? Where complex buildings were designed by foreign architects, who didn't seem to know that their hefty fees were being added to the country's debt.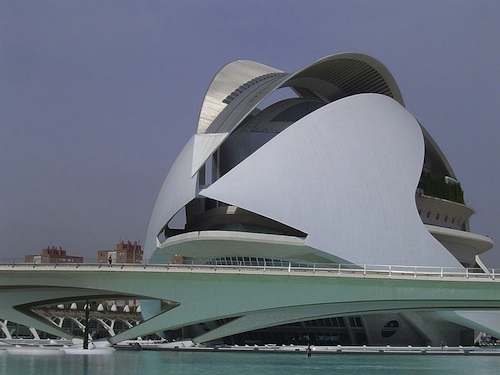 Photo: Sergio Calleja
Santiago Calatrava is in a puddle of a muddle in his home town, Valencia. The fourth-ranked United Left party (Esquerra Unida) has found the architect to be a handy scapegoat as the region nears bankruptcy. On a dedicated website Esquerra Unida lists allegedly corrupt dealings with the Comunidad Valenciana concerning fees for the City of Arts and Sciences. Perhaps they have also targeted Calatrava as both major political parties had a hand in commissioning him, and because his work is monument to that very recent era when a government would happily extend its debt to secure prestigious buildings and events.
The [Popular Party] government denied for years the information on contracts and payments to Calatrava, but the work of the United Esquerra parliamentary group has managed to uncover all the secrets of business of the Swiss architect with the money of the Valencians. Esquerra Unida
Fairfax papers have passed some news along from the Guardian. It trumpets that:"contracts were given to [Calatrava] via an unpublicised negotiating system establishing his payments as a percentage of the final cost of each project, which doubled or tripled'". Then they reveal that he was paid, "for designing projects that never came to fruition." The horror.
Santiago Calatrava, architect born in Valencia star but residing in Switzerland, has claimed about 100 million euros from the Generalitat Valenciana, with no IVA or tax paid in Spain. Esquerra Unida
They neglect to mention that Calatrava moved to Switzerland to do his civil engineering degree in 1975, not to evade spanish tax. If Calatrava's Swiss office had charged IVA (Spain's GST equivalent), it would have been extra to the fee, and passed back to the government. [ Update: In 2008, Calatrava's website did mention offices in New York and Valencia – it no longer does. ]
His most emblematic [project] is the City of Arts and Sciences, which has cost over 1,100 million euros and is still unfinished and has various operating problems. Esquerra Unida
Calatrava was signed on in 1991 to a 625M Euro project. The project was inaugurated in 1998, with the final building, Palau de les Arts Reina Sofía, being opened in 2005. According to The Guardian, the 'city' runs at a loss.
"…the costs of reproduction, models, photography, travel, travel and expenses … are billed separately and paid within one month from the filing of the bill." exclaims El Mundo.
Apparently journalists haven't heard of disbursements. Or percentage fees… Calatrava initially charged 4.5% of the budgeted cost for architecture and engineering, and 6.5% for "construction management". In later buildings this was revised to "11% to 12%" of the final cost of construction, highly controversial to El Levante-EMV, which refers to the City of Arts and Sciences as "the crime scene".

Calatrava is an easy target in a deep recession. His main faults? 1. He left Spain. His Spanish wikipedia page is… er rather negative compared to the English one. 2. He didn't audit the government, and 3. His buildings don't come cheap. They are expensive and distinctive, which is what the government of the day wanted, to attract major events and tourism, and build its own pyramids.
Over the last decade, surfing on a property boom, Valencia spent billions hosting the America's Cup sailing competition and the European Grand Prix motor race, launching Hollywood-style movie studios, and building the biggest aquarium in Europe, a Sydney-style opera house and several museums. Reuters May 1st [ link ]
"The "big events" policy is responsible for 13% of the region's current debt, which has been estimated at close to 20 billion euros. "Looking beyond the surface of wealth and excess, this superficial economic model made us poorer." Vincent Soler, Professor of Applied Economics at the Univeristy of Valencia. [ link ]
One of the worrying things about this politically motivated kerfuffle is how it has been reported. Many news services have let these claims about dodgy contracts slip through, without noticing that a normal contract for architectural services looks around about the same. Maybe not for much longer?
14.05.12 in practice
Architect / protaganist: Santiago Calatrava

They shoulda come to me; I'd have done it for half that fee.
A quarter that fee.
Hell I'd have done it for 10% of that 10% or 12%.
To quote Luigi of WA Salvage;
"We ain't fancy, but we're cheap."
by Patrick Irwin on 21 June 12 ·#