Piles of clothes tend to broadcast to me the concept that I should wash them. But not always. Here's a pic from a show now on at the Park Avenue Armory in New York. That's up the road a bit from The State Armory where that chap R.Mutt submitted a urinal for a show in 1917.
2010: Park Avenue Armory – Christian Boltanski No Mans Land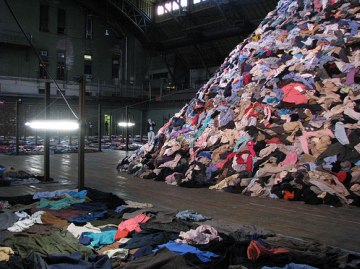 [ C-M ]
2006: Brooklyn clothes pile after huge fire at the Old Greenpoint Terminal Market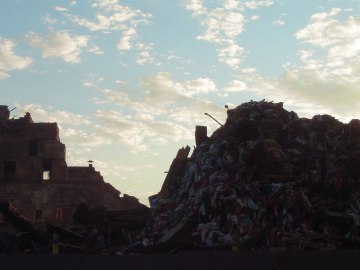 [Peter Johns 2006]
I like the second one more, but they are connected. The burnt clothes were (I think) being stockpiled at the old market building. C-Monster reports that the clothes for the Boltanski exhibition come from a warehouse in New Jersey that has to "deal with" 70 tonnes of incoming second hand clothes a day. They are sent all over the planet, but the warehouse can't keep up with the influx.
Another New York artist working with old clothes is Derek Melander, who prefers building walls and columns with neatly folded and colour-coded clothes waste.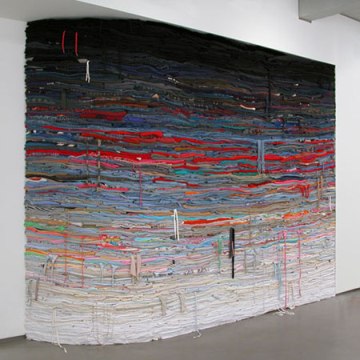 Architects in the States have been able to make a dent in the clothes mountain too, specifying insulation batts made from recycled cotton and denim. I can't find anyone selling denim insulation in these parts – maybe we don't like throwing our old jeans away.

Posted by Peter on 16.05.10 in sustainability and insulation