greaseproof architecture since 2000
I send mixed messages
This event has passed.
Thursday Apr 11, 2013 at 6:00pm to Sunday May 05 at 5:00pm
Counihan Gallery
233 Sydney Road
Brunswick, Melbourne
Victoria, Australia jump to map
on the web:
Michelle Hamer exhibition.
A solo show to be opened by Corbett Lyon
Opening April 11, 6-8pm
April 12- May 5, 2013
Michelle Hamer is interested in the use of language in the urban environment – from graffiti and advertising to commercial signage – and the way words convey meaning. This new series of tapestries is based on photographs taken in the USA during the early days of the Global Financial Crisis. The works reference signage, slogans and phrases that connect with cultural, social and financial changes in the USA today, using language's facility to capture the shifting nature of meaning and information.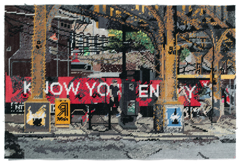 tags: corbett lyon, michelle hamer