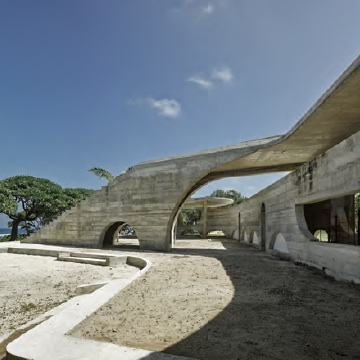 By Gina Lee, Melbourne, 2013:
"Time moves a little slower in Vanuatu, not that anyone there actually minds, and in fact this is a big part of the appeal of the place. However if you are a young, energetic architect from a fast track city you might yearn for the pace to pick up a little, especially as your ambitious design for a luxury resort emerges ever so slowly, half-realised on a spectacular tract of land where the forest meets the sea.
Kristin Green of Kristin Green Architects invited photographer Peter Bennetts to accompany her to La Plage du Pacifique, Vanuatu. The resulting photographs are anything but "in progress" documentation.
Green has bravely allowed Bennetts to present her work at it's most vulnerable, but revealing such strength of form that we can already imagine the finished work.
We see the bones, the inner working, the structure – the important business of architecture before the detailing of surfaces and slick styling. This is architecture at its rawest.
Bennetts' own unique vision has captured a profound stillness in the half-completed buildings and surrounding landscape. Time has shifted to such a degree that past, present and future/birth, life and decay, merge in one. Light and form create striking compositions that, rather than a direct descriptor, are more evocative of place.
It may seem incongruous to be opening an exhibition of architectural images in the tropics at the launch of a cheese cellar, but for those of you who don't know, Green is also the architect responsible for the Spring Street Grocer mini-complex. To all her projects she brings a vitality, commitment to concept and a quirky sense of
purpose, and this most recent collaboration with entrepreneur Con Christopoulos and photographer Peter Bennetts is no exception."
Note: the exhibition was to close on the 9th. It is still (20th June) usually accessible though you may need to ask.