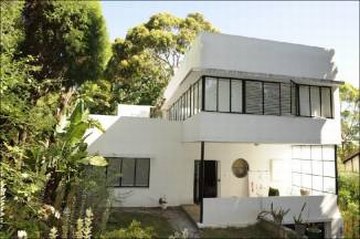 The letter writers are noisy in Sydney's Northern burbs right now, protesting that an interior designer should be able to alter her own home's interior. Willoughby council doesn't agree, as the 1947 Hillman House is a relatively intact Henry Epstein with built in furniture by Paul Kafka. It is listed as a local heritage "item".
"I can't be expected to live like people did 50 years ago, stuck in a tiny little kitchen like a housewife from the 60s." Jennie Clarke, the interior designer, says she asked council before she bought it if she could alter the veneered innards, and was informed that she could. Someone else has already had a go, according to a DocoMomo report on the house, which tells us that all of Kafka's built-in furniture was removed in recent years, "under cover of darkness". This is incorrect, only the loose furniture was removed. ICOMOS describes just how much built-in furniture there is…
"Epstein designed an extensive range of built-in furniture for the house which Kafka carried out with extreme skill. Kafka's June 1950 invoice to the Hillmans records furniture for virtually every room of the house, including beds, wardrobes, bookshelves, a cocktail cabinet, table and chairs. His work blurred the distinction between furniture and architecture in that he also made the staircase, wallpanelling, windowsills, and a mantelpiece."
In its July determination, council wrote, "The removal of further Kafka furniture will adversely affect the significance of the heritage item to the extent that the custom designed interiors are no longer apparent. The fundamental change in the planning of discreet yet related rooms into a free flowing plan, while Modernist, is not characteristic of this Epstein house. As such, the removal of built-in Kafka furniture and its surrounding walls cannot be supported."
40 Findlay Avenue
Roseville
Sydney
DocoMomo profile of Hillman House (PDF) (dead link)
ICOMOS on Sydney Migrant Architects
Willoughby Council determination July 2009
Paul Kafka at the Powerhouse
Posted by Peter on 19.12.09 in buildings and heritage
Commenting is closed for this article.