Can anyone spot the glaring error? Apart from labelling all Post-WWII buildings "plain".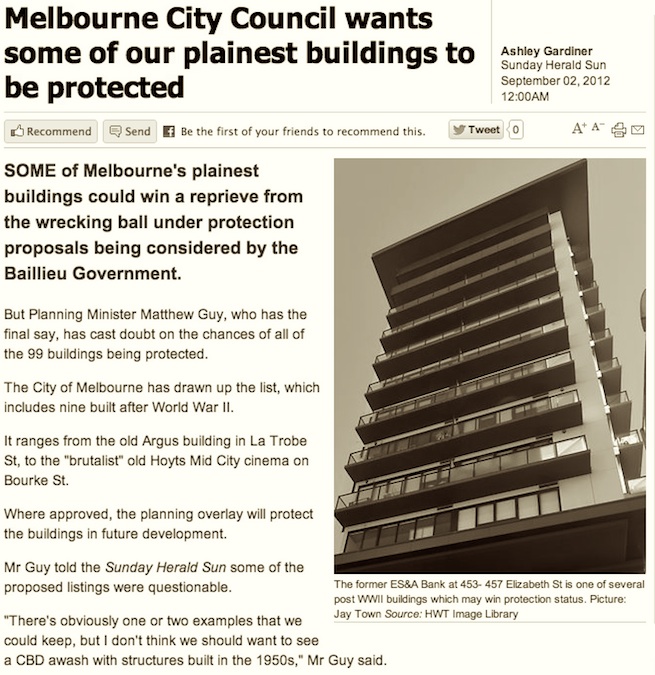 [Image reproduced for purpose of discussion. Limited public access to article is here You may have better luck via this google link ]
A: The photograph is of a high-rise extension to the ES&A building in Elizabeth Street (Chancellor and Patrick). It was constructed, controversially, about 10 years ago. Is this a suitable image for an article discussing the merits of mid-century buildings? In a way it is, as an example of what can happen when an important building is mangled despite heritage listings ( National Trust State Significance in this case ).
A little investigation on Google reveals that earlier today this Herald Sun article went under the banner "Protected Eyesores". Not uncommon in the press, this lack of sympathy for modern architecture. They then select a few words from an interview with Melbourne Heritage Action spokesperson Rupert Mann. "They're not much for the eye to look at, they're not ornate (but they're significant)."
Mr Mann was the counter point of view in the article to Victorian Planning Minster Matthew Guy. Mann thought Guy should rely on his heritage specialists, rather than say things like this: "There's obviously one or two examples that we could keep, but I don't think we should want to see a CBD awash with structures built in the 1950s." My Guy is about to review and make the final decision on the City of Melbourne's "98 CBD buildings" list. Heaven (or whatever is up there) help us. Though looking at the council list ( Graeme Butler & Associates PDF ), there are so few mid-century buildings there that Guy needn't worry about the city being awash with these plain things in a few decades. I've mapped them, and can't even find the nine the Herald Sun says are there:

View 98 Buildings in a larger map
(Note I did this quickly using a few scripts, so probably some errors 30cm from screen. Click an icon then MORE > Street View to see a pic)
Here are just a (very) few of the CBD 20C buildings that don't make any grade that I can find. This gallery may grow as I find the time… ie it probably won't grow.
Posted by Peter on 03.09.12 in heritage
Commenting is closed for this article.