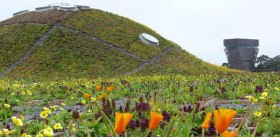 Renzo Piano's gone all green with his new building in San Francisco, a hop away from Herzog and de Meuron's new de Young Museum. The Academy is carpeted in 2.5 acres of grass and flowers, it is insulated with recycled blue jeans (very appropriate for San Francisco – home of Levi's).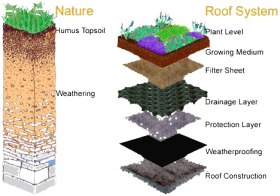 Pic from: SWA Group
Green roofs are becoming popular in the U.S., particularly since Chicago mayor Richard Daley returned from a visit to Europe in 1997 with a case of green roof envy. All well and good, although architects tend to want their roofs green rather than brown, even in California's Mediterranean climate. Consultant plant guy at the CAS, Paul Kephart scowled in 2004 , "if you get right down to it, nobody wants it to be brown… You have flowering, then you have decadence and senescence. That's the life procession."
Posted by Peter on 19.08.08 in buildings and sustainability
Commenting is closed for this article.