A two week public hearing starts next week into the fate of several sites very close to Melbourne's Shrine of Remembrance.
It has been a sorry saga. In 1999, someone somehow omitted to transcribe a height control for these St Kilda Road sites to the reformatted planning scheme. The height control of 36m above AHD (25m above street level) vanished.
Oops there's a gap: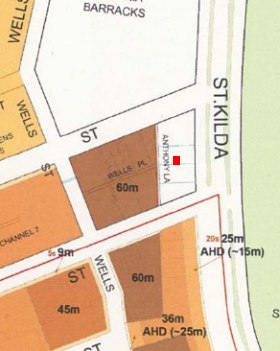 In 2000 Overland Properties Pty Ltd purchased 324 to 332 St Kilda Road, and in 2007 visited the council for a pre-application meeting for their 160m tall tower, designed by neighbours SJB. It would overshadow part of the Shrine and many were not too happy about that.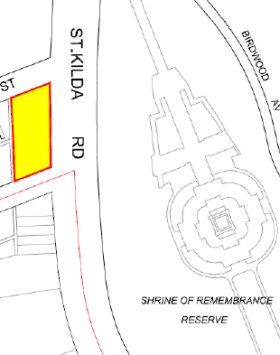 Surprised planners set out to fix the error by recommending an immediate amendment to the law in June 2007, requesting that the Minister for Planning use special powers to carry it through immediately without public examination. Council instead deferred the matter.
In December 2007, after much dialogue with the developers about the need for high design standards and ESD on such an important site, council proposed an amendment to the planning scheme for a 60m height limit to the area, with a 25m podium. In July 2008, 81 objections later , council reverted back to 36m as its preferred height and requested the Minister approve this pronto – Overland had just lodged a planning application for a 112m high mixed use building and they needed to respond.
Instead of implementing the council's recommendation, Minister Madden called the project in , saying that it could not be resolved using normal processes.
A public hearing will begin on March 23rd.
The existing 7 to 8 storey buildings on the site: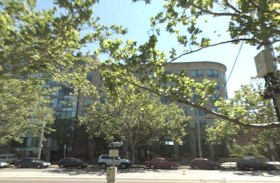 Commenting is closed for this article.