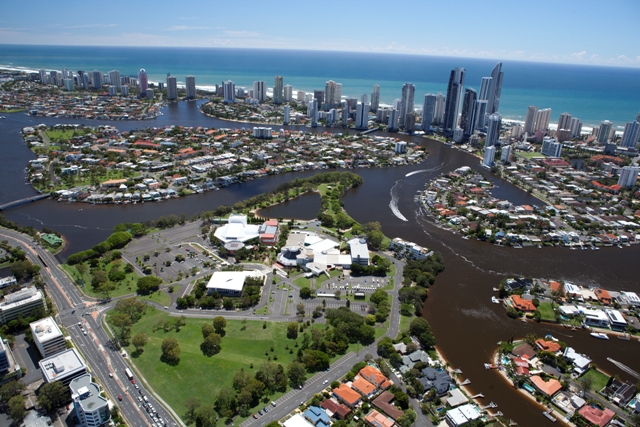 Gold Coast Mayor Tom Tate said Council wants to create a landmark precinct at Evandale framed by the Nerang River and with views of the city skyline and hinterland mountains. Council's vision for the site includes a Living Arts Centre, for performing arts and cinema; a New Arts Museum for media, art and design; a stunning outdoor garden Artscape and a green bridge to adjacent Chevron Island.
"Concepts will need to be distinctive and innovative and will have to respond to a comprehensive design brief. The winning design will evolve into the city's creative commons, a place loved by residents and a must-see visitor destination.
"This will be a complex task, so we are encouraging multi-disciplinary design teams. We hope to see involvement from local, national and international designers across a wide range of disciplines, from architecture and engineering to digital and lighting design and arts management."
Mayor Tate said the jury would be looking for something outstanding; something that captures the essence of the city and its cultural identity, with the potential to attract investment and to contribute to the Gold Coast's place as a major tourist destination.
Stage one, from 26 March, will provide competitors with six weeks to develop and submit proposals that include a high-level design response and outline their team's capability. An independent expert jury will assess submissions.
Stage two, over 12 weeks from 18 June, during which up to three short-listed teams will each be paid AUD$250,000 to further develop their responses. The jury will then select a winner to work with Council to deliver the cultural precinct.
Evandale, Gold Coast City
Queensland, Australia