Adelaide Now reports on two developments in a spot of bother, both for being out of character. The first is a Jetsonesque building by DC Architecture in Kent Town, which despite being approved by State Heritage and the Council, and despite being made less space age and more stone age than the pic below shows, was recently knocked back by the local Development Assessment Panel for reasons including:
the amenity of the locality will be impaired by the appearance of the building.
the visual bulk and architectural scale is inconsistent with structures of adjoining or nearby land.
the building does not complement the urban context of existing buildings on adjoining and nearby land and will impair the amenity of the locality.
LINK to DAP minutes. (PDF, pg 99)
The council (which supported the proposal) also said that the DAP had, "fundamental concerns with the residential nature of the development."
Pic of original proposal by DC: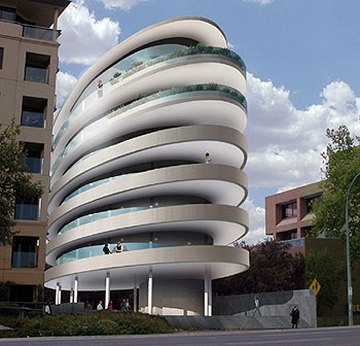 Google Street View showing a bit more of the neighbour, with approved heritage bling.

View Larger Map
Meanwhile over on the Semaphore beach front, developers Nikolas Anargyros and Grafio Pty Ltd have to pay $39,000 plus legal costs of $56,000 for de-blinging their building, at variance to the design approved by Council.
This one has been in and out of the courts for the last three years since the duplex was built. The council had been wanting the front pulled off and changed to something more historic, with eaves gutters and gables, like they had approved. They won't get that now, but will get some cash instead.
One might have hoped that the developers went for something a little less bland in their transgression – like Giuseppe Terragni did in Como in 1927, when he presented a traditional building to council for approval, then proceeded to construct Novocomum behind the scaffold screening.
Posted by Peter on 29.08.09 in heritage and planning
Commenting is closed for this article.