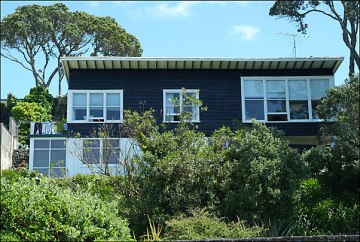 33 Kitchener Road, one of my faves from a childhood spent ambling back and forward along the Takapuna foreshore, by Group Architects member Vernon Brown, is to be demolished. This follows 20 years after a similar house by Ivan Juriss nearby was shipped out to the countryside, no longer appropriate for the skyrocketing property values on the foreshore.
Brown and Juriss were both members of Group Architects, an informal squad of academic architects who dominated the Auckland Architecture School during the 50s and 60s. Their housing was simple, modern, and monopitch. It was an introduction to Modernism via the modesty of the beachfront bach.
Vernon Brown's trademark style was locally known as the 'Brown Box', a creosoted monopitch home with large white framed windows. This 150 sqm 1942 house is one of the most well-known.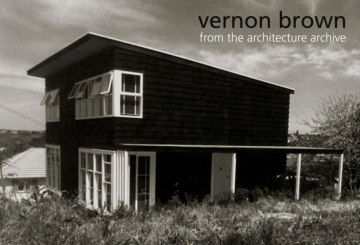 ANOTHER VERNON BROWN
Disappointing in the extreme, the demolition application has sailed through the North Shore City Council with no requirement for notification, meaning that there is no advertising period for objections.
Architectural Group Manifesto (PDF)
Exhibition in Housing Film 1950 (WMV)
Council Minutes 18 August
Real Estate Photo Gallery
Vernon Brown Bio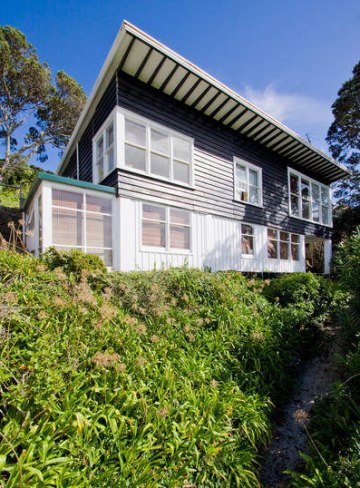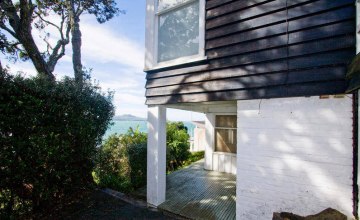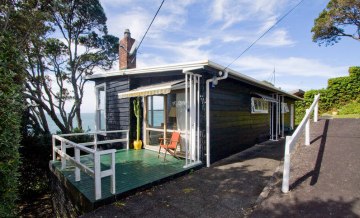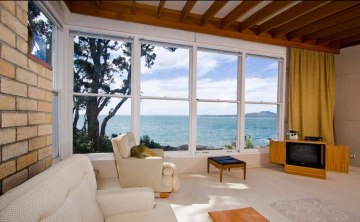 These copyrighted photographs are redisplayed under the fair use provisions of copyright law – for discussion and preservation.
Posted by Peter on 19.09.09 in heritage
Commenting is closed for this article.