The byline made me click: "Copper dome adds Europe to Gold Coast Real Estate". LINK Life would be dull without the disneyland architecture of the Gold Coast, non?
Yes they've built a copper dome atop a confused nine-storey apartment block back from Surfers Paradise. In a tribute to euro puddings, the block has been named "Bella Vue", which according to the developer means "beautiful view"… on the border crossing between Italy and France I guess.
Bella Vue is part of the French Quarter development at Emerald Lakes, along with the evocatively named "Le Parisien" and "Maison Apartments". "Maison Apartments definitely captures the charm and character of a vibrant European village." Here's a vibrant pic.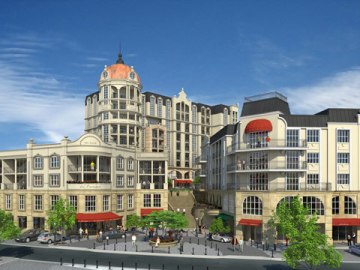 Posted by Peter on 03.11.09 in weird and wonderful
Commenting is closed for this article.