greaseproof architecture since 2000
Adelaide wow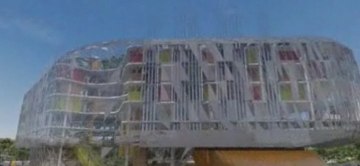 SA treasurer Kevin Foley says it will take South Australia, "straight from boring to the wow factor". Strange. Kevin Rudd unveiled the Woods Bagot-designed $200 million Health and Medical Research Centre on Saturday. Video at Adelaide Now . 3d people with faces walking around in the video make a nice change from translucent "threshold" people, though they do look a little claymation.
Posted by Peter on 01.03.10 in buildings
comment
w b show colour blind centrelink how to deal with his affliction?
by hairdresser on 10.03.01, 09:26 am ·#
Commenting is closed for this article.