greaseproof architecture since 2000
Natural Artifice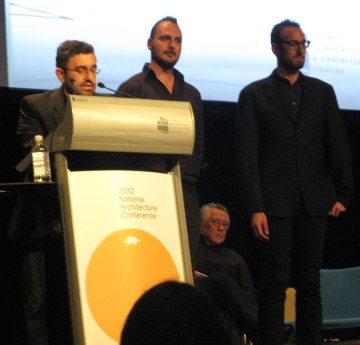 In the closing sessions at the AIA 2010 conference, Angelo Candelapas was announced as creative director for the 2011 conference. He took to the stage with two very tall staffers (Andrew Scott and David Neustein) to say that the theme will be 'Natural Artifice'. Nine of the ten speakers have already been chosen, and the last international speaker is to be chosen by public input. You can input here . Though it will be hard to nominate anyone until more details on the theme are posted.
NATURAL ARTIFICE 2011 INFORMATION
Posted by Peter on 25.04.10 in conference
comment
beaudy – a conference with a lot of real estate agents to network.
by hairdresser on 10.04.26, 12:20 am ·#
What precisely is the nomination process to run a conference?
by luke on 10.04.26, 08:13 pm ·#
Commenting is closed for this article.