greaseproof architecture since 2000
squint/opera TV
Oh dear my inbox is getting a bit full. Sorry if you've sent something in and I haven't gotten to it.
The always interesting architectural communications mob Squint/Opera have the big LED TV in Fed Square to themselves this month – well for an hour a day. So pop down there around 5.30p.m. or 12.30a.m. to see what they've been up to. It finishes at the end of August.
Here's a peek. More here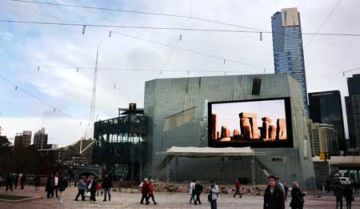 Posted by Peter on 26.08.10 in films
comment
Commenting is closed for this article.