ACT Planning Minister Andrew Barr this week compared Walter Burley Griffin to an American cartoon character, in a blog post entitled Walter Burley Griffin is Dead .
"Walter Burley Griffin was born in 1876. He has had no involvement in the development of Canberra since 1920. His plans for the city were never really implemented. Yet his legacy and the deconstruction of his "ideal city " vision continues to dominate debate about the future of Canberra.
In pop culture terms, Griffin is surely the "Jebediah Springfield" of Canberra."
Jebediah Springfield was the founding father of fictional cartoon city Springfield , where The Simpsons kids are locked in eternal adolescence. Maybe because of the radioactive pollution. Jebediah Obadiah Zachariah Jedediah Springfield , 'real' name Hans Sprungfeld, was a bit of a scoundrel who wanted to build a city, "devoted to chastity, abstinence, and a flavorless mush he called 'root-marm'." Nothing like Canberra…?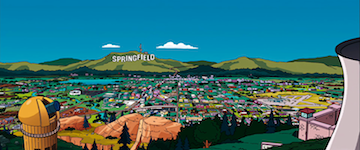 Posted by Peter on 05.11.10 in urban planning and weird and wonderful
Commenting is closed for this article.