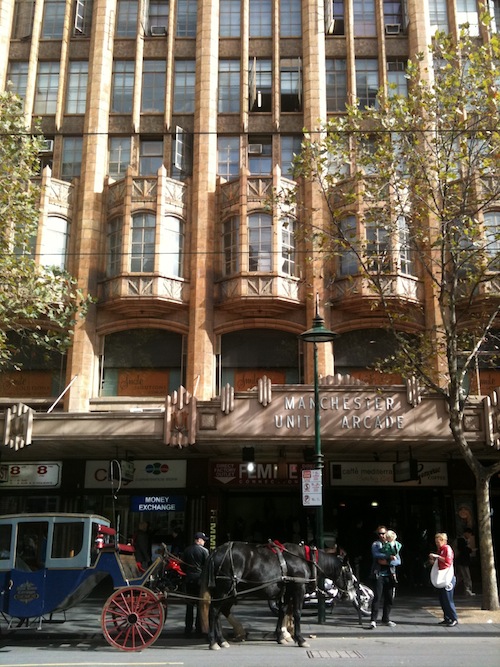 Victorian Premier Ted Baillieu let the Herald Sun in on his top ten Melbourne buildings last weekend. While it's hard to argue with any of the individual choices, it is more interesting to look at the list as a whole. What an elderly bunch of edifices it is, all built before World War II. Even Burley Griffin misses out on a nod. His favourite is Marcus Barlow's 1932 Manchester Unity building. He apparently hates a lot of buildings too, but we aren't told which ones they might be.
Putting down the tabloid down and digging through the web for something more substantial, a lecture turns up [ PDF ] from Baillieu's time as Shadow Minister for Planning. Here are a few excerpts. Possibly he's had an architectural blood transfusion since then.
I was educated architecturally thirty years ago. My education started at Melbourne University in 1971, where I studied European and American architectural history. At that time, of course, the credo was 'less is more'. That credo certainly got into my architectural blood…
In my final year at university, I did a thesis piece on art deco architecture in Melbourne, which in many respects is quite contrary because it's about ornamentation — architecture as entertainment — and that, for me, is the other side of things when it comes to materialism and architecture: there is a role for entertainment. The role of the architect is to be the provider of joy in the architectural sense. To balance the two is not always easy, but it's part of that role…
I just love the Manchester Union Building on the corner of Swanston and Collins streets. Most people walk by and don't really look. For me, it's amazing. Federation Square was something that didn't move me, I'm not quite sure why. Lots of people thought it was extravagant. But they use it.
Manchester Unity at Walking Melbourne
Photo: P.Johns 2011
Posted by Peter on 22.11.11 in buildings
Commenting is closed for this article.