Hyundai Australia has just published an e-book covering their six blogger-lead tours around Sydney and Melbourne in August last year. I was one of them, and get a double page spread, thankfully with no mugshot. They seemed to like the Ashton Raggat McDougall buildings I showed them the most. Click the image below to view the book.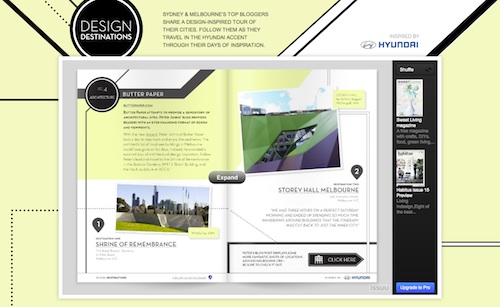 Hyundai have launched an associated competition only being promoted through these six blogs – so your chances are quite high to snaffle $5k to put towards your "design dream".
Find out more about the competition here, or read about my August drive-about here.
[ NOTE Hyundai Australia has been a butterpaper.com sponsor ]
Posted by Peter on 25.03.12 in books
Commenting is closed for this article.