Marooned offshore earlier in the year, I attended to some sorely-needed maintenance on this website. I've upgraded the forum software so that it should work for the next five years at least, and also upgraded the content management software running this page you're reading. Due to all sorts of technical hurdles, that all took about 30 hours. Then I tackled the problem I've long dreaded – link rot.
Given that most of the links on this current version of the site were added in 2008, I was expecting at least 30% to be down. That was optimistic, 'tis more like 80%. Some advice –

when you change your domain name, hold onto the old one lest it reemerge one day as an online gambling site, or worse. It happens all the time.
add "301" redirects to your old site pointing to the new site. It's just like forwarding your mail. This is best done for each page to hold onto the page's search engine reputation.
when building a new website on a new platform, consider maintaining old page content for the benefit of the many websites who may be linking to it, as well as historians. Perform reverse link checks to see who is linking to what.
if intent on deleting an informative page, consider checking first that it has been indexed at the internet archive.


Many of the informative articles people used to publish on their websites have been deleted in the past ten years, presumably as people try to rein in any damage to reputation that having an opinion might entail. This is a pain for historians. Unheralded architectural pamphlets, rants and manifestos from the past few centuries are preserved in archives and shoeboxes, awaiting discovery. It's a much harder task examining the digital decades as it's mostly wiped.
Where I've been able to, I've replaced abandoned old links with links to the internet archive. Otherwise, I've searched online. Searching online has been eye-opening, many new directory services having sprung up. There are websites out there with listings of Australian architects that contain almost anything but. One says it verifies all architects' licences. Maybe they attempt to, but the first 'practice' I checked turned out to be using the ARBV number of an entirely separate architect.
Just some listing web directories mixing it all up:

serviceseeking.com.au
hipages.com.au
yellowpages.com.au


A client seeking an architect could easily be misled during their search. Two of the companies advertising as architects lead customers into their site, where they may be confused to read the following disparaging remarks:

We provide architectural level and Interior services at a fraction of architectural rates and for all budgets.
Architects might be seen as more like a high-end fashion designer or a celebrity chef. Great at what they do, but what you really want expertly designed is your renovation or extension – not the Sistine Chapel and certainly not at Sistine Chapel-style prices!


The recent clamour in Queensland over someone misrepresenting himself as an architect should not have been a surprise to anyone.
Architects call hardly talk though, when their peak body appears, to a casual Yellow Pages visitor at least, to be branching away from its core activities.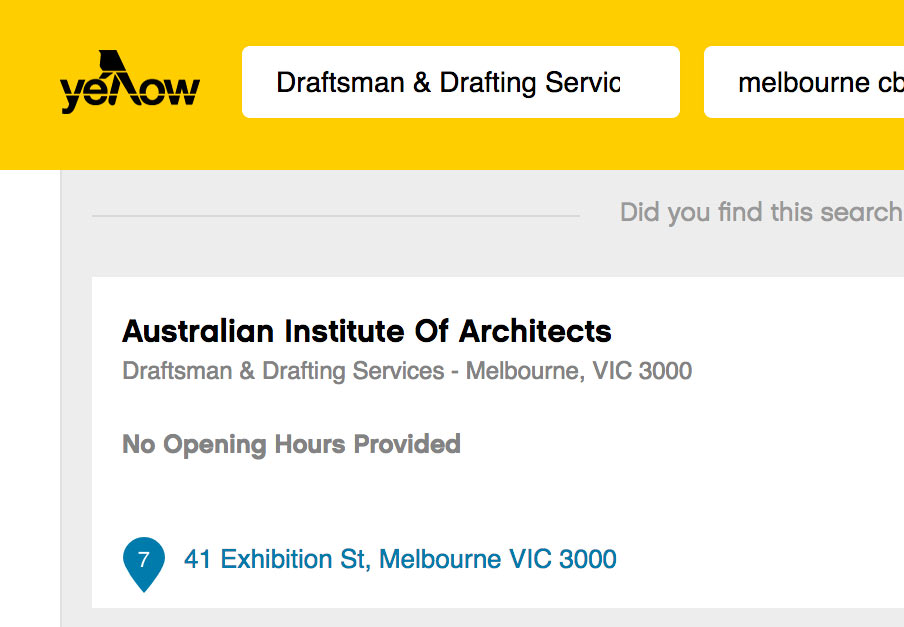 Posted by Peter on 03.08.19 in directories and random debris
Commenting is closed for this article.