That's the name of a store officially selling Herman Miller's Eames furniture range in the United States, couldn't resist it. At another U.S. retailer, the Eames office, the cost of an Eames DCW (Dining Chair Wooden) varies between $629 and $1149 depending on the finish. If you shop around in Melbourne you can find similar chairs being sold for between $129 and $929 (if you want one dressed with the hide of a pony). These local chairs, all found from a search at Google Australia, all happen to be fakes, or, more euphemistically, replicas . The authentic Herman Miller chairs, quite lost in the search results, are made in places like the U.S., Canada and Italy. The replicas are made in China, not that they are called replicas there – they go by their original product names, sometimes even incorporating the Herman Miller name.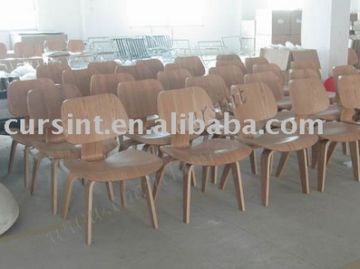 Doing a search for Eames chairs I found countless factories selling versions of this chairs. Here are a few:
Foshan Qingwei Hardware Factory, China Shenzhen Honzon Industry Development Company Limited, Foshan Beyoung Furniture Factory, Shenzhen Weinuoya Furniture Co., Ltd., Shenzhen Cursint Furniture Co., Ltd., Foshan Shunde Longjiang Jibei Hingis Furniture Factory…
There are almost as many Chinese factories making these chairs as there are Australian retailers willing to sell them. There is nothing illegal about this in Australia, as long as they are sold as copies and the design registration has expired.
Life Interiors' philosophy :
bq. "Life.interiors is committed to providing stylish contemporary home and office furniture via the web. This allows for inspired copies of designer items to be affordable to a broader audience."
The word "inspired" pops up a lot looking around these sites. This is not the same as "inspired by". Inspired version, inspired replica, inspired copy. One even refers to the Eames as the inspired designers. The dictionaries may have to fit another meaning in for that word. Perhaps: inspired adj. an attempt to invest creative authenticity in a replica.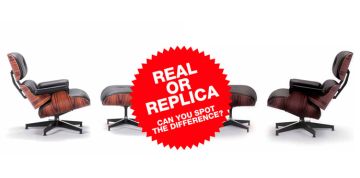 from the Authentic Design Alliance .
I actually agreed to specify some DCM replicas myself a few years ago. Most of the chairs had to be sent back due to the mismatched plywood strips. The veneer was soft and easily damaged. The feet are in various states of disrepair. They probably have a few years left in them. I won't be doing that again.
It is tempting to buy the classics a bit cheaper, especially when there is no identifying badge to distinguish the real from the fake. But three reasons will stop me.
1. By specifying replicas I need to agree that design should be in the public domain. I would need to not grumble if I saw a replica of my work on the web.
2. The stores selling the reproductions have no information on factories the furniture was obtained from. I would know nothing of the factory's working conditions or environmental fallout, or the toxicity of paints and foams used.
3. The flood of cheap repros is no doubt expanding the number of classic chairs sold. Though I have nowt to go on, I don't see how this could be good for the current crop of furniture designers. Others in the replica industry think differently.
I had assumed it was just poor people like me who would buy reproductions. But the practice is common in office and hospitality fitouts around the country. Sometimes it is obvious – you can spot the dodgy Thonet before you've sat on it. Sometimes they appear where you wouldn't expect. In Sydney recently , someone slashed a whole lot of chairs at the Park Hyatt Harbourbar. Turns out they were ripoffs of Charles Wilson designs. Charles Wilson works in Potts Point and had seen them himself. The five star hotel side-stepped the issue and blamed the "third party" fitout people.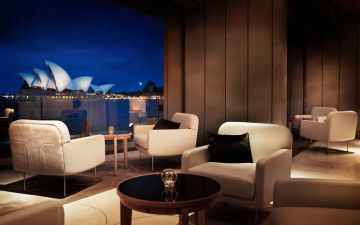 Harbour bar
People may be appreciating good design more, but only if they can get it at a cut rate. In this article in the SMH, Richard Munao of Corporate Culture laments, "People don't really appreciate the value of original design, which is why we can have the prime minister appear in a photo shoot on a fake Jacobsen Egg chair."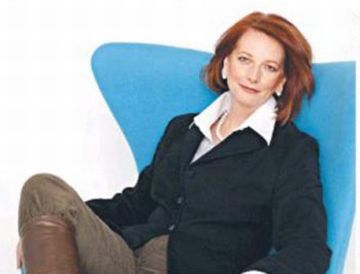 Julia on a fake egg chair for an Australian Women's Weekly shoot. The curve is wrong. Photographer unknown.
RELATED FORUM DISCUSSIONS:
Apartment therapy: What is wrong with this chair?
Posted by Peter on 06.10.10 in furniture
Commenting is closed for this article.