Sound like The Vault all over? Bellemo and Cat's Sidle playground shelter is made from old plastic playground slides (makes sense). It was entered in this year's Institute awards, but is now under threat of removal by the City of Manningham. Locals are "divided" about it, when they're not sliding on it, and the council would like to move the sculture to someplace where people can, "appreciate the artistic merit of the work". I think there's a spot just across from the Casino that might be vacant.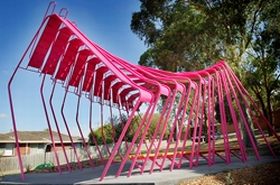 Vault sculptor Ron Robertson Swan in 2002 :
"I think the problem is that a lot of people don't know… that it's fine to be slightly uneasy with something. If somebody is uneasy about something, normally they have an immediate reaction, that 'this is not good and it must go'. Most people want immediate pleasure, immediate recognition and immediate reassurance, and (they think) if that doesn't happen, then there's something wrong.
"But 20 years have passed, and I think people are at least a little bit more familiar with what modern art looks like."
Posted by Peter on 29.07.08 in urban design
Commenting is closed for this article.