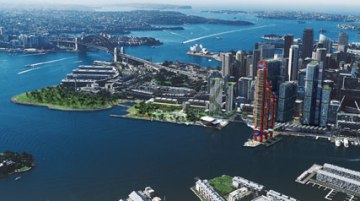 Always one with words, ex Prime Minister Paul Keating recently criticised colourfully the Sydney Morning Herald's coverage of the dubious development at Barangaroo. The SMH was none too happy at being called "jaundiced" and "intellectually corrupt" and today lashed back at the Barangaroo "band master".
"Keating has said that he wants public debate on Barangaroo. The Herald couldn't agree more. So instead of attacking the messenger, address the questions."
They go on, in yesterday's lead editorial, to spell out the questions. Worth a read .
The letters page is on the SMH's side. Here's a good one from Gary Sullivan:
"It is unclear to me if Richard Rogers is referring to the hotel or the movement of the water when he says that ''it's very three-dimensional''.
"It would come as a surprise to me if either were not three-dimensional, but he implies that three dimensions is something unusual. His use of ''very'' also indicates that there are degrees of three-dimensionality to which I was formerly ignorant. Architects obviously see the world differently from the way ordinary folk see it."
As part of its return salvo, the SMH also attempted a visualisation of what the contentious hotel tower might look like from Darling Harbour. Why? Because there are, "no plans available to reveal what the tower might look like from the south."
In the same issue, Elizabeth Farrelly questioned the dominance of Paul Keating in the process: "Top to toe, Barangaroo is now wholly Keating's baby. If any doubts lingered as to his paternity, Tuesday evening's packed performance removed them, Keating carrying on like a character in his own musical." She then wonders how the proposed Midtown Manhattan model will com off given that there is but one developer, Lend Lease.
Anyways, in the minds of Paul Keating, Richard Rogers, and Kristina Keneally, it's all done and dusted. "Lend Lease's first stage commitment is to deliver at least 40,000m2 by June 2014." Just some public consultation to get out of the way first. Until March 20th, locals will have a chance to see what it is all about at a public display centre on site.
I might wait for the opera.
Barangaroo press release
Banagaroo Delivery Authority's letters to the SMH
Posted by Peter on 26.02.10 in urban planning
Commenting is closed for this article.