Big News has covered the email schemozzle to death, so I thought I'd leave it to them. But I can't resist this screenshot from ABC TV. Masterful composition. Here is an isolated Madden looking more like Jim Hacker than he would probably like. He had just gate-crashed his way into a very important inquiry into his own department's pants-down on public consultation. The other lads appear to be leaving him out of their chat. But what on earth has that guy on the right drawn? A legless pelvis? In confident strokes. Great work for a pollie.

ABC TV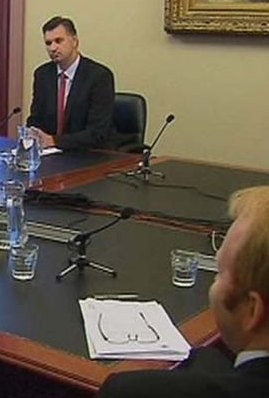 It is with great disappointment that I look a bit closer and realise that it is not a sketch at all, but instead a pair of upturned frameless spectacles. In meetings, upturned spectacles are a sign that things are drawing to a close.
Interpreting upturned glasses as a limbless pelvis means I should probably take the rest of the weekend off.
Posted by Peter on 13.03.10 in planning and weird and wonderful
Commenting is closed for this article.