greaseproof architecture since 2000
Northcote bowl's days are numbered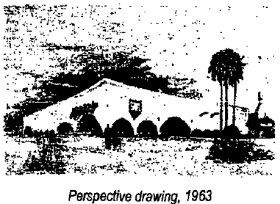 Victorian Planning Minster Justin Madden issued a press release yesterday saying that the Planning Department supported Heritage Victoria's May 2009 determination that Northcote Bowl is not worthy of a heritage overlay. The City of Darebin had been trying to protect the distinctive 1960s building (by architects Fisher and Jackson) from demolition and redevelopment as 96 apartments.
Posted by Peter on 22.05.10 in heritage
comment
Such is progress and such is Justin Madden and the Victorian ALP's depraved liaison with the property developers.
I used to work here, before Northcote was first taken over by ferals, and the subsequent march of the gentrifiers, when bowling was a real sport for some people, not some ironic hipster pastime. A side issue is that the bowling alley closed due to basically a lack of demand as the yuppies and gentrified moved in, but there are a number of restaurants etc who are using the alleys in their fitouts..riiight. Still, I had some great times there from about 1985-2000..RIP
AMF
Bowl.
by Ed C on 10.06.21, 06:52 pm ·#
Commenting is closed for this article.