greaseproof architecture since 2000
Wellington airport
Studio of Pacific Architecture and Warren and Mahoney have designed the new extensions to Wellington's boxy old airport. Architect elder, Russell Walden, isn't pleased with the new look, variously described as rock-like, pumpkin-like, and Flintstones-like.
The vox pop is predictably anti. My snobby favourites on the first of 17 pages are, "Avant Guard naivety" and "it looks hence".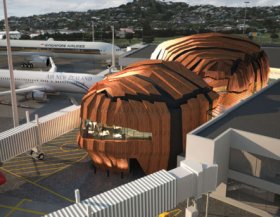 » NZH 21.02.08 "Rocking New Look"
Posted by Peter on 21.02.08 in buildings
comment
Commenting is closed for this article.