This Fairfax video link is promotion masquerading as information. Nonetheless it is worth a look if only for the theatrical performance of garden wall guru Patrick Blanc. The topic is the Central Park development in Sydney – the Atelier Jean Nouvel building in particular.
Using a "jettying heliostat" (an array of mirrors hung out some distance from the building) Nouvel's team is hoping to shunt light into the darker apartments – hopefully without burning holes in the curtains. They are also running gardens up the building, somehow miming Australian nature…
"The façades literally extend the park into the sky. By miming what can exist in Australian nature, we are proposing a new form of high-rise living in direct contact with nature." Jean Nouvel
This monster development is at the old CUB site in Ultimo. As with the Melbourne CUB and QV redevelopments, the site is chopped up 19th Century fashion into several sites each being handled by a different architect. The lucky ones here are Alec Tzannes, JPW, Nouvel, and Foster.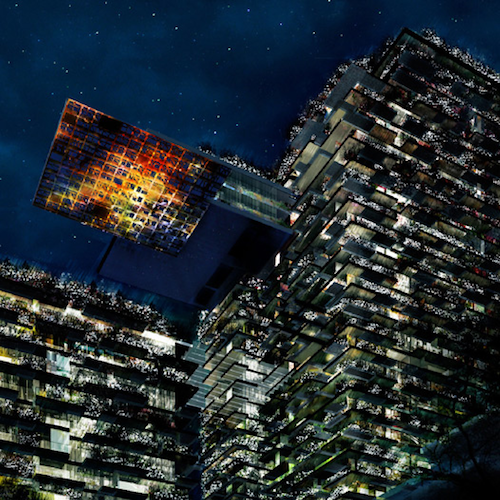 One Central Park at night. LEDs by Yann Kersale .
Posted by Peter on 30.01.11 in cities and urban planning
Commenting is closed for this article.