greaseproof architecture since 2000
Fat scraper
Lord Norman has just received planning approval for "Crystal Tower" in Moscow. The 500m tall building has a pretty wide base of 620m, and has been likened to a transparent wigwam. Some local architects weren't too hot on it – Yuri Bocharov complained: "This idea of Foster's has been wandering all over the world. Why does it have to settle on us?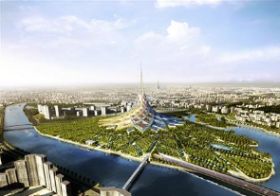 Posted by Peter on 05.01.08 in buildings
comment
Commenting is closed for this article.