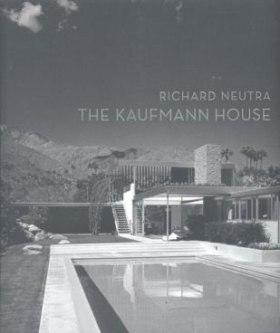 Richard Neutra's house for Edgar Kaufmann in Palm Springs was auctioned at Christie's in May (here's the PDF flyer ), sandwiched between other modern painters and sculptors. Bidding started at $9.5M. and it sold for US $16.8M. Phew – though they were expecting up to $25M. The Art Newspaper revealed last week that a week after the auction, it all came unstuck. They quote Christie's as saying, "the Kaufmann House contract has been terminated by the seller by reason of a breach of its terms by the buyer." They must be worrying about their $1.8M commission…
So why was it auctioned by Christie's rather than the local Hocking Stuart? Preservation Nation says the owners were looking for "art-world connoisseurs" rather than hoi polloi, and a price that would guarantee its preservation. That site has a blow-by-blow account of the auction, has a nice description of the havoc Barry Manilow wreaked on the house during his tenancy, and talks about the modernist god of photography Julius Schulman's recent visit to the house aged 97.
great buildings – kaufmann desert house
neutra.org
Posted by Peter on 12.08.08 in buildings
Commenting is closed for this article.