10 Murray Street in Hobart, labelled an "eyesore" in today's Hobart Mercury , is to tumble to make way for a new development.
The new development is by developers Citta and rather busy architects, FJMT. From the several documents I read at the project website , the government seemed to be more interested in public feedback than expert advice in selecting the winner.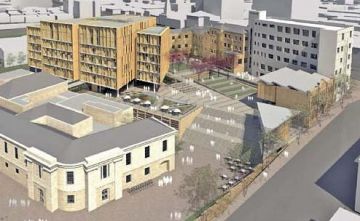 The 1967 building, which extends 11m below ground, will be demolished at a cost of $8M and will be replaced by a $45.5M building of similar size but further from the street. Another $4.5M will go to the public space the demolition will reveal. One has to wonder what could have been done with a $58M budget to renovate the existing building.
So, before the demise of yet another brutalist building, some words from the Australian Heritage Register , where the building has "indicative place" status.
The State Offices building is exemplary of a philosophy of building type (the multi-storey office block), and a continuation of the International style of the post-war period. It is a particularly well executed example of the movement and the best Tasmanian example of high-rise offices of this period.
The style of building is associated with functionalism and abstract art. It was formulated on rationality and simplicity that asserted itself as economy and efficiency in architectural design. The Modernist 'messages' of form, space and view are evident in the vertical expression of the external concrete frame as the 'form of line 'a graphical grid. The internal free form plan, allows multiple arrangements of space:- the design also emphasises the outward-looking view.
Dirk Bolt of Hartley Wilson & Partners was primarily responsible for this design. The work of the firm, and of Bolt, has long been recognised as outstanding in the history of Tasmanian architecture. Other notable examples are Christ College, Sandy Bay and buildings on the Cadbury's site at Claremont.
The State Offices building was recommended for inclusion on the National Estates Register in the '90s.
Tip:FW
Commenting is closed for this article.