In case you hadn't heard, UTS recently announced Californian celebrity architect Frank Gehry as the architect for the new Faculty of Business building in Ultimo. They're obviously not trying to make friends with the local architectural fratenity. UTS are delighted and sound as if they've won the jackpot. The 80 year old legend, who has just been in town on a flying visit, declined to comment due to a tummy bug.
Professor Ross Milbourne, Vice-Chancellor and President of UTS, waxes: "We sought out Frank Gehry because his work so brilliantly reflects the nexus between creativity and technology that embodies the innovative thinking so characteristic of UTS… This once in a lifetime opportunity offers the University a chance to build something extraordinary as part of our Campus Master Plan". He was the only man for this "destination" building it appears.
The SMH tells us he was chosen thanks to his Stata Centre for MIT, recently listed on Fast Company's Architectural Blooper list, due to that lawsuit beat up .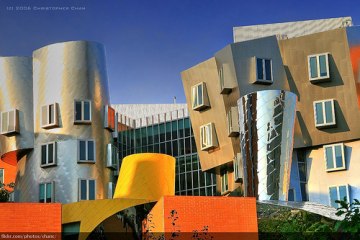 It must have taken some convincing for the bean counters at UTS to approve this. Their procurement policy states that any consultancy worth over $300,000 should go to an open tender. In a list of exceptional circumstances when a "sole source" may be employed, only one situation has any relevance: "Relating to unique items such as works of art".
Perhaps it might be for marketing value more than artistic value? No word yet on the lucky documentation house that will have the task of interpreting Gehry's complexities into a building.
UTS PROCUREMENT PDF
DAN HILL ON STATA
Posted by Peter on 12.12.09 in buildings
Commenting is closed for this article.