greaseproof architecture since 2000
Windsor shrinks
Halim group has submitted an ever so slightly lower version of their Windsor Hotel development to Heritage Victoria for approval. Two floors have disappeared, cutting the number of rooms from 332 to 300.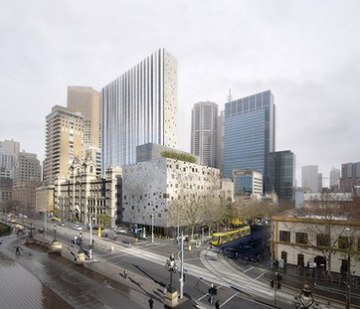 Posted by Peter on 16.06.11 in heritage
comment
This is a Masterpiece. RMIT is the greatest Architecture School in Australia.
by leehon on 11.06.18, 11:59 am ·#
In what way is this a 'masterpiece'? How is this a 'great project'? Such comments provide little in the way of reasoning to guide the reader as to why they should agree or disagree with them. I would argue that this is a very very poor project indeed and a lazy piece of architecture to boot. The response to site here is entirely inappropriate for one of Melbourne's most important heritage buildings. Arguably, this is in fact one of the nation's most important heritage sites, being one of a few intact large scale 19th century buildings remaining from the 'Coffee Palace' / temperance movement era. It deserves to be left alone to read as a three dimensional form in the cityscape without a massive high-rise intervention tacked on to the rear and the heritage interiors gutted without a thought for future possibilities or restoring and adapting the heritage built fabric. Also, the rear high rise addition will destroy the historic brick lane way frontage – erasing yet another of Melbourne's gritty 'back-of-house' lane way spaces that could otherwise become an active hub of activity like other nearby heritage lane ways.
by Paul Beekman on 14.05.04, 10:58 am ·#
Commenting is closed for this article.