I'm not sure I get this. The one part of the New Quay promenade at Docklands that gets any sun is to be built out in the interests of providing customers to nearby shops. I will go and figure…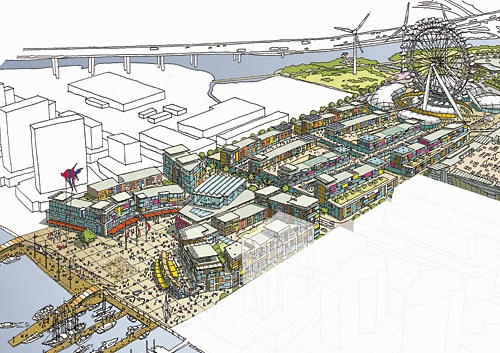 Early sketch – North is to the right, as is our broken wheel.
Waterfront City was originally masterplanned in 2003 by BDP (London) and Hassell (Melbourne). They won the 2004 AILA Victoria Award for Excellence in Planning award for it. "Hassell's complex and detailed plan exhibited a responsiveness to both site and user amenity … and to its Melbourne context and the focus on human scale, permeability and connectivity." This is what it looked like then – a pretty good waterfront space connecting into a very deep development site, with a giant ferris wheel as the ill-fated Northern anchor (note to out-of-towners: it broke).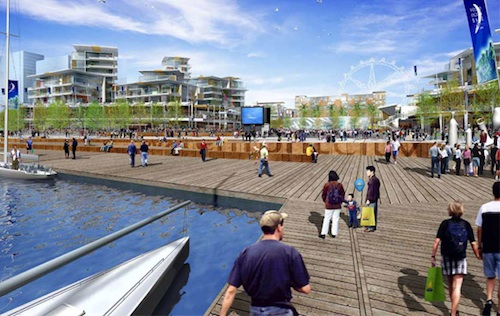 Early render. An expanse of Northern sunniness.

Early render – from the AILA entry – notice no marquee, green lawn instead.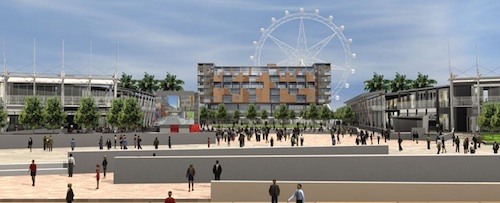 Early render – from the AILA entry – taller buildings to north of Docklands Drive.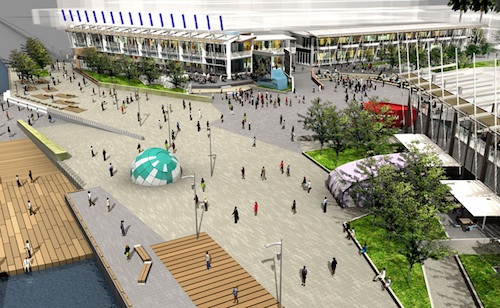 Another early render – from the AILA entry
The original BDP masterplan allowed for 400 homes and 50,000 square metres of retail space, according to Architect's Journal. More recent information on BDP's website states 400 homes and 35,000 square metres of retail. A March 2008 Docklands brochure varies from this wildly by saying that there are 104 homes and 80,000 square metres of commercial space. Costco must be quite big. This brochure mentions that it was all collaboratively designed by BDP, Hassell, and DKO Architects.
It must have become apparent at some point that there is a whole lot of empty air with a view above Waterfront City. Now DKO are masterplanners for the proposed new additions by MAB, who recently purchased just the harbourside portion of Waterfront City from ING. This area, between Docklands Drive and the Sea has been rebranded New Quay Central.
Renderings for this development are taken from the other side to BDP/Hassell's early sketches. There is less sign of the sea, no sign of the promenade. The unloved marquee (really a giant teepee) is to be removed and replaced with a green space modelled on Melbourne's City Square. Behind this park is a hotel that will generously shelter it from South Easterly winds.
One just wonders what becomes of the public (?) waterfront space, which is currently the only one along this stretch to get any northern sunlight in Winter. The new hotel that will encroach on it as well as cast a shadow onto it is part of 90,000 square metres of "infill" development that they propose. Which is about as big as Waterfront City is now.
Let's finish with the new pictures, from the North.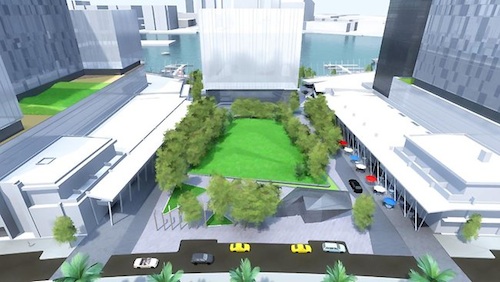 The new park and hotel

A broader shot. Showing the rest of the 90,000 square metres concentrated into towers flanking the promenade. View is everything I guess.
The proposal has been submitted to VicUrban and the DPCD. I might leave the last word to the developers :
MAB believes that the aspirations prescribed in VicUrban's Second Decade of Docklands strategy are embodied within this scheme. The scheme addresses some consistent challenges faced in Docklands including the need for more green space, better protection from the elements through sheltered spaces and a greater variety of high quality building types.
Posted by Peter on 02.09.11 in urban design and real estate
Commenting is closed for this article.